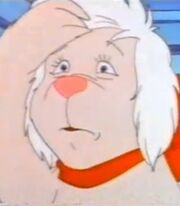 Annabell is a Myopic Ghost-White Old English Sheepdog with white scalp/ears and stomach. black eyes, (Blue irises in Season 2) who wears a Red/Pink Ribbon around Her neck. the reason She's myopic, is because Her hair is mostly in the way of Her eyes. She's also Girlfriend to Louis.
Main Appearances
Edit
Punk Appearance - Seen exclusively in Annabell goes Punk. Her Scalp, Ears, and Tail is colored pink, yellow, and magenta. Her neck ribbon is orange, wears a bracelet around each of Her paws, the spot on Her back is magenta, and Her stomach is colored navy-blue.
Models and Roughs
Edit
In the Italian Version, Annabell's name is Camilla.