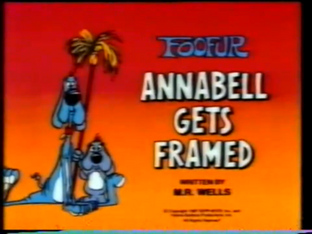 After Mrs. Escrow's glasses accidentally fall on Annabell's eyes, improving Her vision, the gang takes Her to an eye clinic to find the perfect glasses for Her.
(info coming soon)
Alternate Title: I Only Have Eyeglasses For You.
When Mrs. Escrow's glasses fall on Annabell's eyes, Annabell's nose is black.
This episode is the closest Mrs. Escrow has found out that Foofur and the Gang were in the house.
While Louis was arguing with Annabell, A Picture of a dog with the number "1998" state that the Cartoon might have taken place after or during the year 1998.
When Foofur was about to jump on the garbage barge, Fritz-Carlos' scalo is the same color as His fur.
Ad blocker interference detected!
Wikia is a free-to-use site that makes money from advertising. We have a modified experience for viewers using ad blockers

Wikia is not accessible if you've made further modifications. Remove the custom ad blocker rule(s) and the page will load as expected.