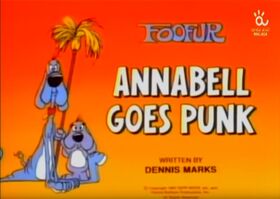 Annabell goes to a Grooming Place in hopes of getting Louis' Attention, but gets the attention of a club's Dogs after getting a punk appearance by a flashy stylist.
Annabell's nose becomes black in two scenes, Once when the Girls introduce Annabell's hairdo, the other after Annabell turns down going to the Lavender Loft.
When Dolly looks at the Mirror, Her Irises are incorrectly colored yellow.