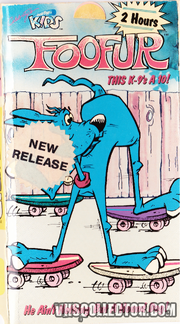 This is the Third Volume of Foofur from Just For Kids/Celebrity Home Entertainment on VHS.
60 Minute Version
Edit
Contains only New Tricks and Mad Dogs and Englishmen.
2-Hour Version
Edit
Russian thru New York
Fritz-Carlos Bombs out
Pepe's Pet Peeve
Clothes Make the Dog
Boot Camp Blues
My Pharaoh Lady
Ad blocker interference detected!
Wikia is a free-to-use site that makes money from advertising. We have a modified experience for viewers using ad blockers

Wikia is not accessible if you've made further modifications. Remove the custom ad blocker rule(s) and the page will load as expected.