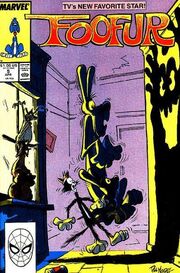 Released April, 1988
Story One, The Bear Facts
Edit
When Mrs. Escrow has the mansion treated for Termites, Foofur and the Gang go camping but Rocki is taken by a nearsighted Mother Bear, thinking Rocki is one of Her cubs.
Story Two, Fur Better Fur Worse
Edit
The Rat Brothers try to turn Foofur's gang against Fencer after They take some of the cat's fur and pulling mean jokes on them. Of course, Foofur and Louis try to defend Him
Story Three, Pipe Down
Edit
Mel and Harvey use a magic flute to lure the dogs into being captured, and it's up to Fencer to save them.