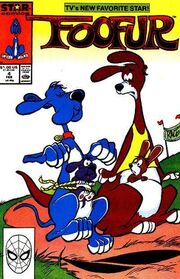 Released February, 1988
Story One, Fernando's Hideaway
Edit
Crooks break inside the Mansion to hide from the police, so Foofur and the gang make use of Their hiding places to scare the thieves.
Story Two, Show Business
Edit
During a date with Fritz-Carlos, Hazel is hypnotized into becoming a slob, which is against Her nature.
Story Three, The Buddy Guard
Edit
The Rat Brothers get a Group of Dogs led by a Pit Bull to clobber Louis, who once was leader of the pack.