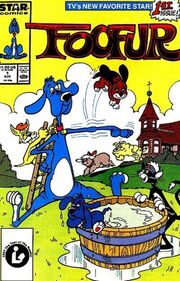 This is the 100th Page made in this wikia!
Released in August 1987
CAUTION! This may contain Spoilers.
Story One, Curly Tale
Edit
Dolly invites Foofur to a Tea Party which the Top Dogs of Willowby will gather but things get dicey, when Hazel puts too much condition on Foofur, causing His fur to become curly.
Story Two, Alone Again
Edit
What Fencer thinks he helped free His friends from the Dogcatchers, were really the Ma Baker Gang, who hold Fencer hostage and hide out in the Mansion.
Story Three, A Close Shave (1-Page)
Edit
Chaos will ensue when Fencer hopes to take a shower while Fritz trims His mustache with scissors.
Story Four, Trial and Error
Edit
The Rat Brothers get the help of a Lawyer Rat (And Pepe as a Judge) in hopes of evicting Foofur and the Gang from the mansion. and When Rocki is ordered to leave, You'll bet the fur will fly, courtesy of Louis!