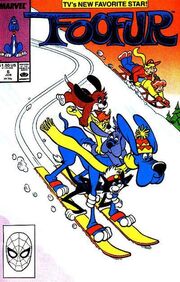 Released June, 1988
Story One, Raising Spirits
Edit
An Oddball sets up the mansion to appear haunted so He could buy it dirt-cheap. but Foofur and the gang counter His attempts.
Story Two, Smitten Kitten
Edit
Fencer falls for a Grey Cat named Mitzi, and Fritz-Carlos tells Him to shed away His Karate Look and get some manners.
Story Three, The Outcast
Edit
Dolly's Snobbish friend, Burt, thinking He's a mutt, leaves home to live in the Mansion.
Ad blocker interference detected!
Wikia is a free-to-use site that makes money from advertising. We have a modified experience for viewers using ad blockers

Wikia is not accessible if you've made further modifications. Remove the custom ad blocker rule(s) and the page will load as expected.