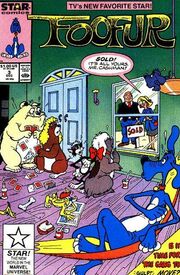 Released December, 1987
Story One, History Defeats Itself!
Edit
A Land Developer buys the Mansion, so He can tear it down to build condos. but thanks to Louis, the demolition is stopped.
Story Two, A Close Encounter
Edit
The Rats trick an Alien into capturing Foofur and the Gang.
Story Three, Plant You know, Dig Ya Later
Edit
Annabell's Sister comes to visit and gives Her a Kudzu plant, but as the plant grows, it covers up the Mansion!
In "History Defeats Itself", Dolly's Owner is Chairman of the Hysterical Historical Society, and She's of a lighter skin tone.
Rocki Mentions the TV Network M-TV in "A Close Encounter".