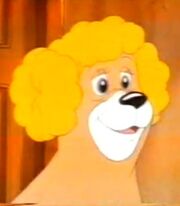 Character
Edit
Hazel is a Cocker Spaniel Dog and is a neat freak, who would react when She sees the Mansion messy, sees the Rat brothers, or anything dirty. She however means well, and is Fritz-Carlos' Mate.
Hazel is voiced by Pat Carroll, who voiced Ursula in "Disney's Little Mermaid" and Katrina Stoneheart in the 80s edition of "Pound Puppies".
Seen in Look Homeward, Foofur, Hazel once lived near Willowby Park until She married Fritz-Carlos.
In You Bet Your Life, Hazel's favorite color is red.
In the Italian Version, Hazel's name was Doris.
Main Appearances
Edit
Models and Roughs
Edit