Rocki is Foofur's pint-size Niece, who comes with Foofur in most of Her adventures, in and out of the mansion.
Character
Edit
Rocki a bloodhound puppy, is a lot like Her uncle Foofur, except Her body is of a light-blue color has White eyes with yellow irises, and wears a red collar with a tag.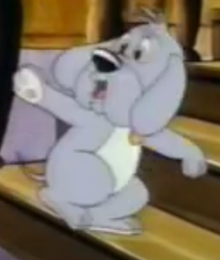 Main Appearances
Edit
Hot over the Collar
Country Club Chaos
Bon Voyage Rocki
New Tricks
The Nose Knows
Just Bumming Around
Puppy Love
Rocki's Big Fib
Scary Harry
Models and Roughs
Edit
Ad blocker interference detected!
Wikia is a free-to-use site that makes money from advertising. We have a modified experience for viewers using ad blockers

Wikia is not accessible if you've made further modifications. Remove the custom ad blocker rule(s) and the page will load as expected.