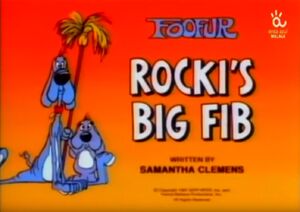 Rocki tries to help a White Alligator in the sewers, but Foofur thinks She's telling tall tales. meanwhile, the Rat Brothers fib to Big Boombah to avoid paying a cheese Tax.
When Foofur and the Gang corner the Rat Brothers, Chucky is the same color as Baby.
In the Espanol Version of the episode, after Baby explained the details to Foofur and the males, Sammy and Chucky told Baby to shut up, instead of saying Baby's name.
Annabell and Hazel doesn't appear in this episode.