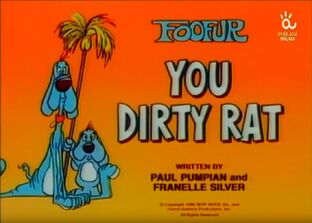 While tormenting Fencer, the Rat Brothers almost accidentally put Rocki into harm's way causing the gang to boot the Rats out of the mansion. bent on getting back at Foofur's gang, Sammy and the Rats turn to Big Boombah and His Shipyard Rats.
Characters
Edit
Foofur
Rocki
Fencer
Sammy
Chucky
Baby
Fritz-Carlos
Hazel
Annabell
Louis
Mrs. Escrow
Male Painter
Female Painter
Pepe
Big Boombah
Rat Henchmen
Mrs. Escrow encounters the Rat Brothers for the first time.
When Chucky suggests on "Exterminating" Foofur's gang, Chucky's tail is not seen, and at the same time, one of Boombah's henchmen's upper face is the same color as His muzzle/stomach.
In Two Scenes after Big Boombah and His hench-rats exit the house, Louis' Nose isn't seen.
IN the Spanish Version, When Foofur asks who's in favor of booting out the Rat Brothers, Foofur's group cheered instead of barking and meowing.